A poola Jada with real flowers is a hair accessory made from fresh flowers. "Poola" means flowers, and "Jada" means braid. It looks royal, divine and uniquely beautiful. It comes in vibrant colors like Rose, Orchid, Mogra, and Jasmine. These are among the most prominent flowers used to make Poola Jada. These flowers are readily available and are pleasant in appearance and spread around a calming fragrance. 
These are considered auspicious in Indian weddings. They come with a classic round or semi-circular top adornment. This can either be attached to the top of the braid or wound around a bun at the top. It is an essential part of south Indian weddings. Such flowers need to be chosen for the poola Jada that remains fresh for much time. It is a belief that red-colored flowers stay fresh for a longer time. It is used to adorn the bride's braid. Jasmines, roses and orchids are the popular flowers used for the poola Jada.
Various Types of Poola Jada with Real Flowers
1. Flower Petals Poola Jada – These are bought from the market or made by the bride's family. It has simple circular designs that go all the way down the braid.
2. Kasu Netted Poola Jada – These poola Jada have the traditional top floral semi-circle, and the braids are embellished with a net pattern of fresh flower buds.
3. Jada Billalu Poola Jada – This poola Jada is made of small pieces of gold jewelry to adorn the bride's braid. It is a bit heavier than the floral poola Jada, creating a highly royal look.
4. Jada Kuppulu Poola Jada – It is made of silk threads and golden ornaments. It hangs at the bottom of the braid. A poola Jada with Jada kuppulu is a traditional mark and symbolizes wealth.
5. Modern Style Poola Jada has a sleek design that corresponds to the Kasu netted poola Jada in many ways. It is not heavy and does not come in traditional circular floral designs. This is why it is liked by brides these days.
6. Jasmine Poola Jada – This is the most traditional kind of poola Jada worn by south Indian brides for centuries. South Indian women consider jasmine as a vital part of their vanity. The fragrance of the flower is also romantic.
Some Recommendations of Phoola Jada with real flowers 
7 silver plated Savaram & Kunjalam Kemp Poola Jada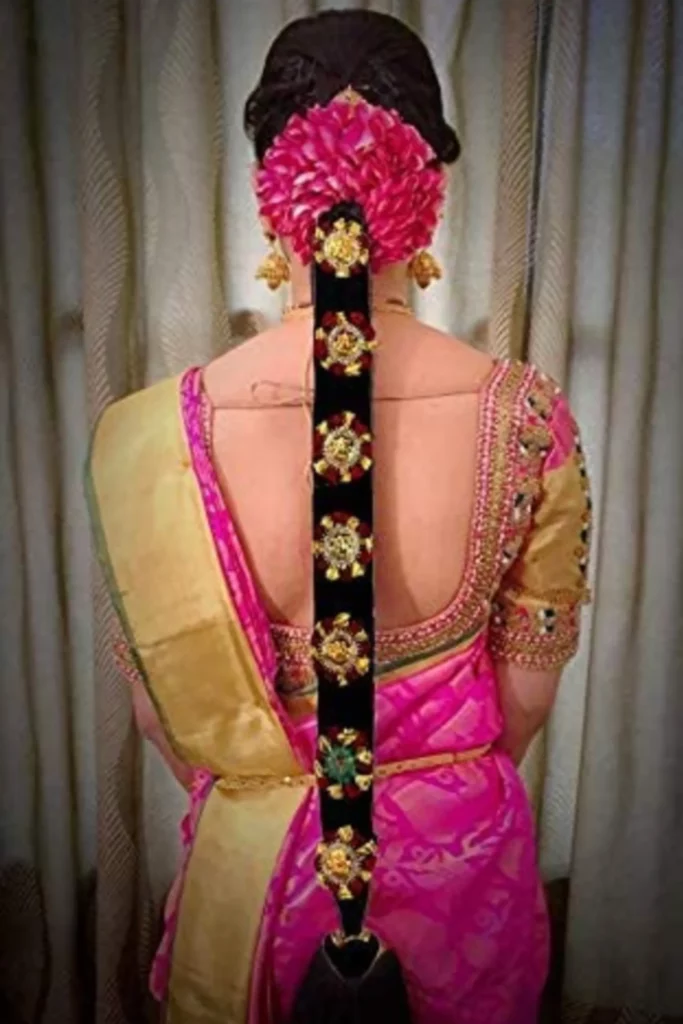 It has 7 silver plated stone jadaisaram. It makes hairs look more beautiful, and it's easy to use. It can also be utilized for Bharatanatyam and Kuchipudi dance interpretations. It makes hair manageable, and Poola Jada attracts everyone. It is the best quality Poola Jada available in the market. It looks fantastic on long hair and cannot be used on short hair. At the same time, the thickness of hair isn't a big issue as it increases the volume of your hair. It does not damages hair as is no chemical used on the hair. It gives a natural look, and it can be reused many times. It can be instantly fitted at home in a few minutes.
2. Savaram & Kunjalam Kemp Ready Poola Jada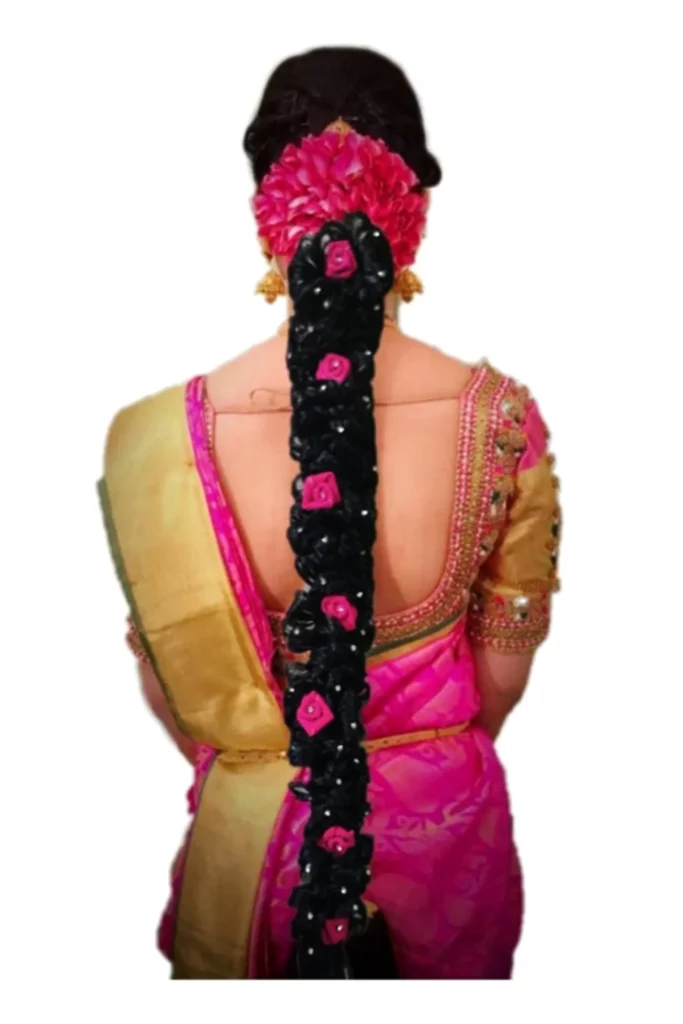 It is a synthetic hair extension of the finest quality. It can be fixed very easily and fast. You can modify the shade, tone and measurement of your hair. It is helpful on special occasions like weddings, birthday parties, and college parties. You can use it casually too. This is extremely helpful for those with low hair volume who want to look more beautiful. It never harms your hair and protects your original hair from chemicals used to make styles. Instant and ready to use, hair look changer is some of the primary features of this hair extension. Handle it carefully and do not comb harshly for the product's long life. It can be reused again and again if appropriately kept. It is incredibly elevated in sensation these days.
3. Savaram & Kunjalam Kemp Ready 6 Flower Jada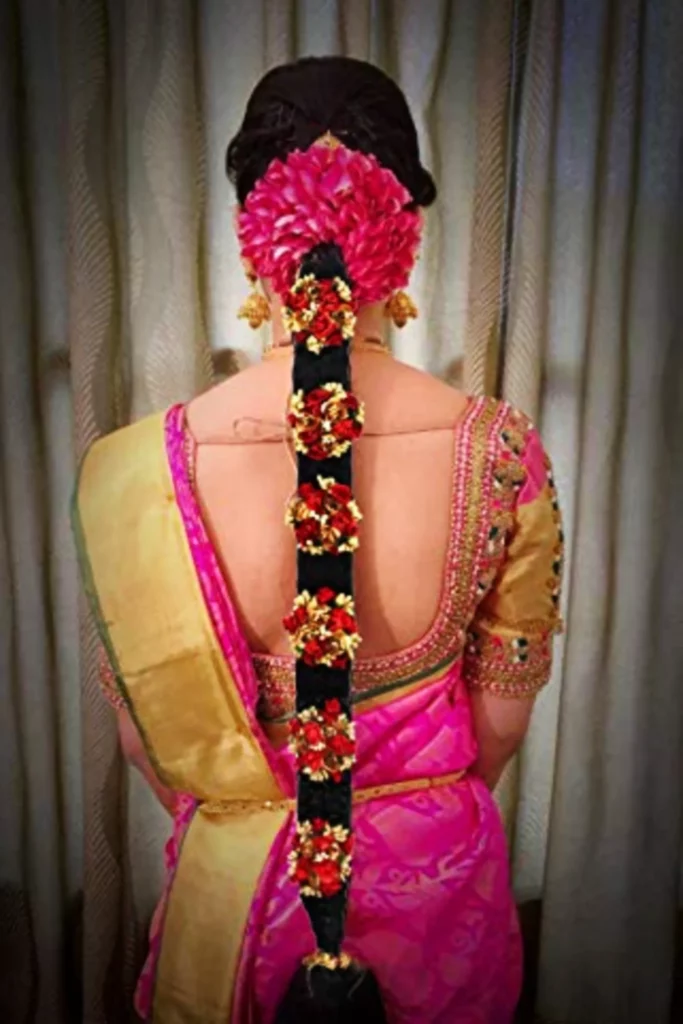 It is very stylish and contemporary jewelry in the current fashion. It is the preference of women from all age groups around the world. The brand benevolences a wide range of collections for all occasions and festivals, varying from ethnic and ritual wear to casual, formal, corporate wear, office wear, daily wear, and many more. The jewelry pieces have been created with a sparkling finish and the best craftsmanship, making a decent and perfect gift for your mother, sister, wife, girlfriend, or any of your loved ones. It is an ideal wear for festivals, anniversaries, birthday parties, weddings, and engagement ceremonies. It assures your creation dependability as our pride is in your fulfillment. It has 6 flower jadaisaram.
4. Bridal Net Jadai Aari work net Jada With Red and Green Stone Handmade Jada Embroidery work net Jada.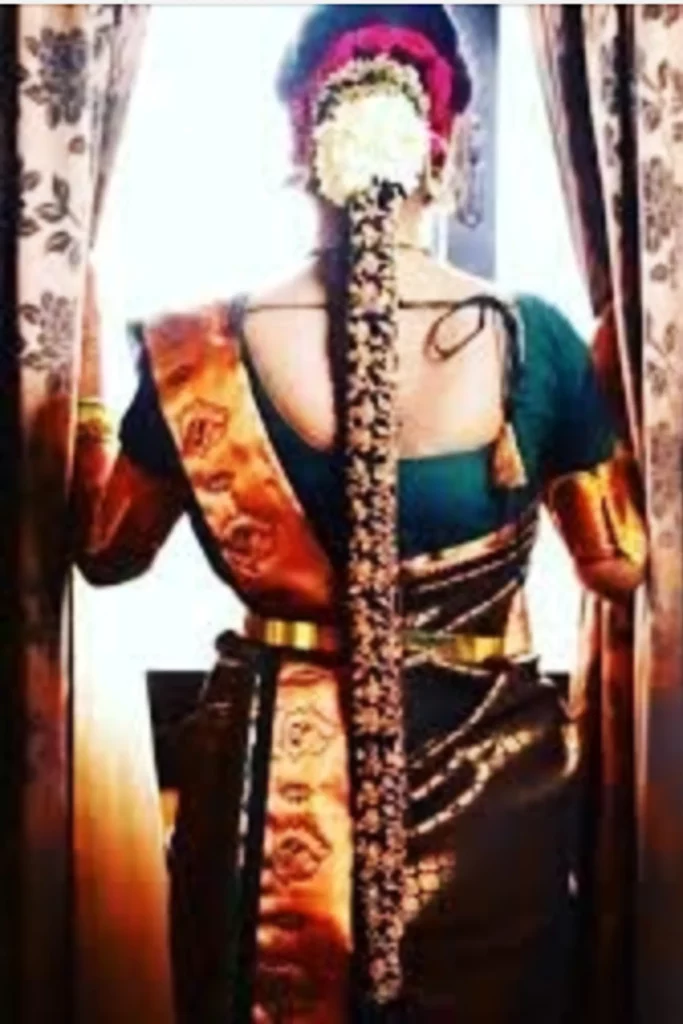 It is a black net cloth With a Stone that gives Colour, Black Color Jada for hair women traditional Latest Handmade Bridal braids used as braids/Tassles Hair Accessories. It is accessible to use hook on Design. This is a beautifully designed handcrafted Jada with fantastic craftsmanship. This stunning fashion Jada would surely add extra charm to your personality. It comes in various looks. It looks beautiful with trendy and exclusive Jada. It is designed by skilled Indian Artisans to bring out an exceptionally royal Jada Hair Piece. It gives a woman royal feelings, and she will feel like a princess.
5. Honbon Braids Beautiful Hair Parandi for Women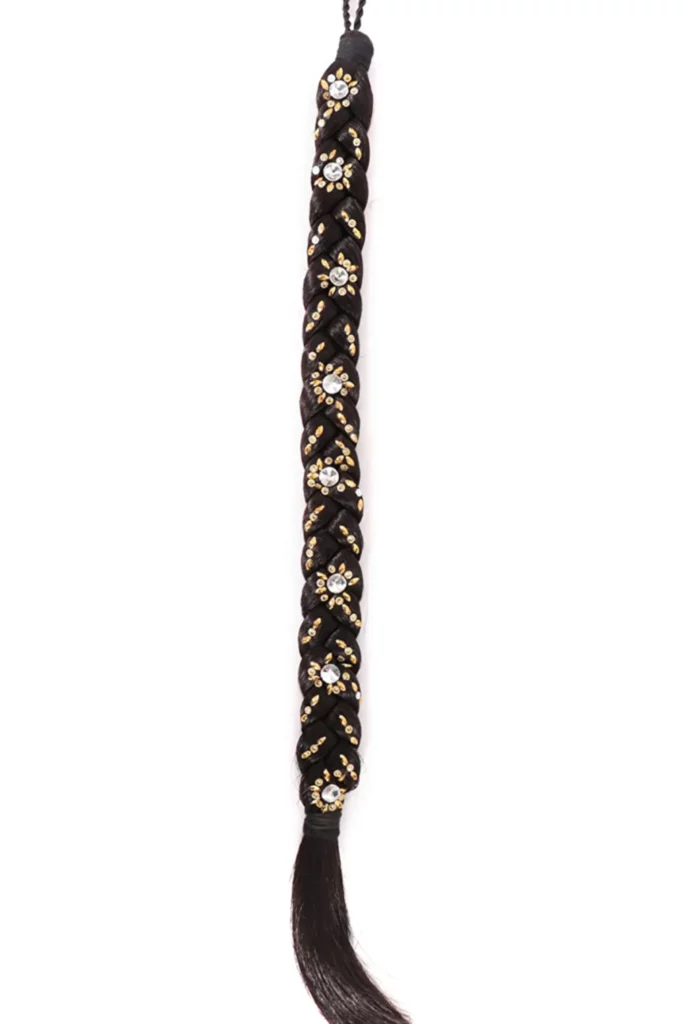 Punjabi Style Jada Hair Accessories for Women & Girls Traditional Punjabi Paranda Parandi ethnic Hair Accessories braid tassels India. This is a beautifully designed handcrafted Jada with incredible craftsmanship. This stunning latest fashion Jada would undoubtedly add that extra charm to your personality. A Jada or Paranda is an Asian hair fashion accessory generally associated with the Punjabi community of India. Look Gorgeous with this stylish and exclusive Jada. It is designed by skilled Indian Artisans to bring out an extraordinarily royal Jada Hair Piece. A unique feature of this is a Traditional Jada hair accessory. It is designed by skilled Indian Artisans to bring out an extraordinarily royal Jada Piece.
Billalu Jadaisaram Kunjalam Poola Jada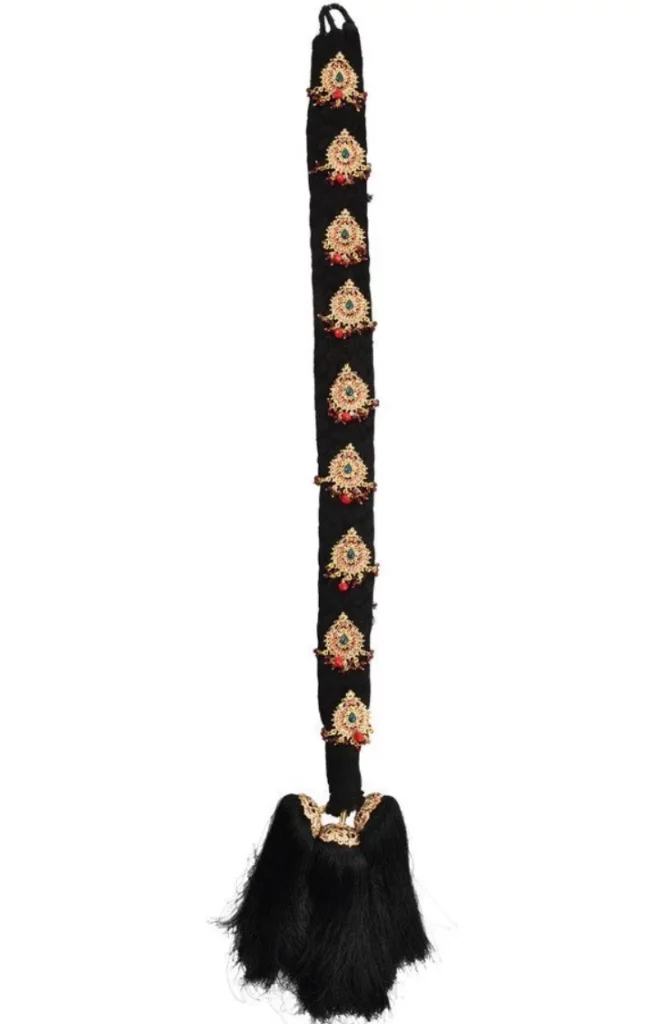 It is a black nylon full-length hair extension like a juda hair extension. It's 100% synthetic heat-resistant fiber which looks like natural human hair color. They Are instant and can be fitted at home in a few minutes without Help. Clip in hair extensions with hair magnitude to make up your head or to add additional volume and length all around. It is easy to apply. Several coercion-sensitive clips make securing fast and comfortable. Each product varies. Detangle hair gently before washing. Do not rub or twist hair. Add gentle shampoo to cool water and swish hair till clean. Rinse thoroughly. Blot out excess water with a towel and allow hair to dry naturally. Avoid using combs and brushes on this item. Use a wig brush instead of a regular brush. It is very quick and effortless to use for all generations. Perfect for a parade, Jada is a classic hair extension for any occasion.
Bridal Pearl/Jada mutyala Jada/Pelli jada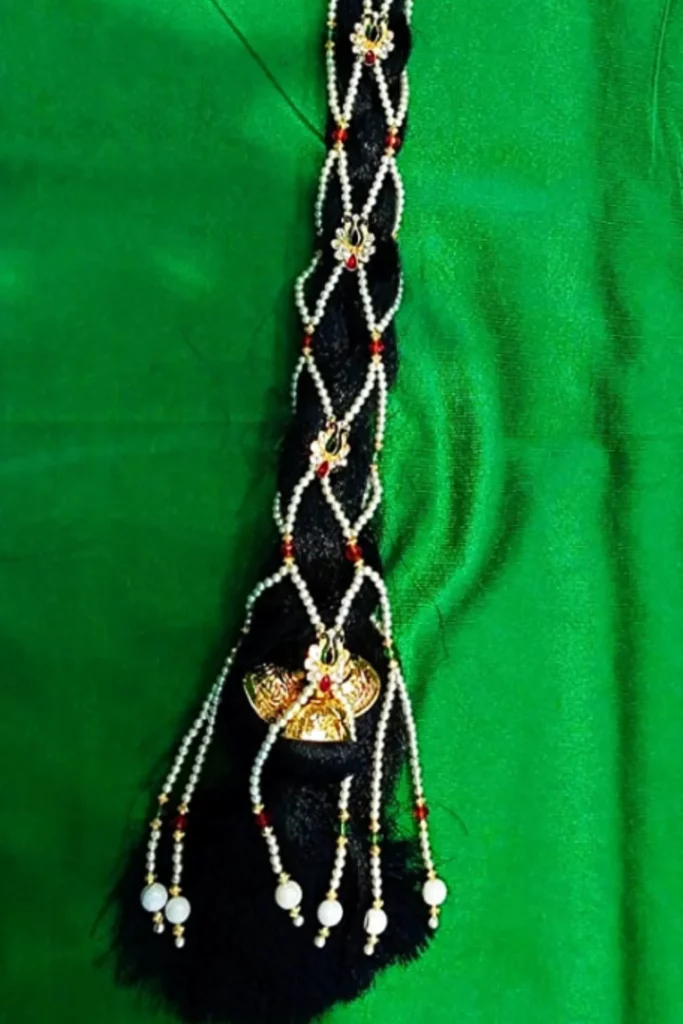 It's a Hair Extension for Women's ponytails / Braids / Choti. It is a Hair Accessory for Women's Weddings. It is 100% of Top Quality. It is pretty helpful on special occasions. It is an Asian hair accessory that women like to do, especially at weddings. However, it can be worn on every occasion. It not only increases the volume of hair but also makes your hair looks thick. It also protects your hair from getting detangled, hence preventing hair damage. It is effortless and doesn't require much time to fix your hair. It needs to be handled with care for the product's long life.
Savaram & Kunjalam Jada with flower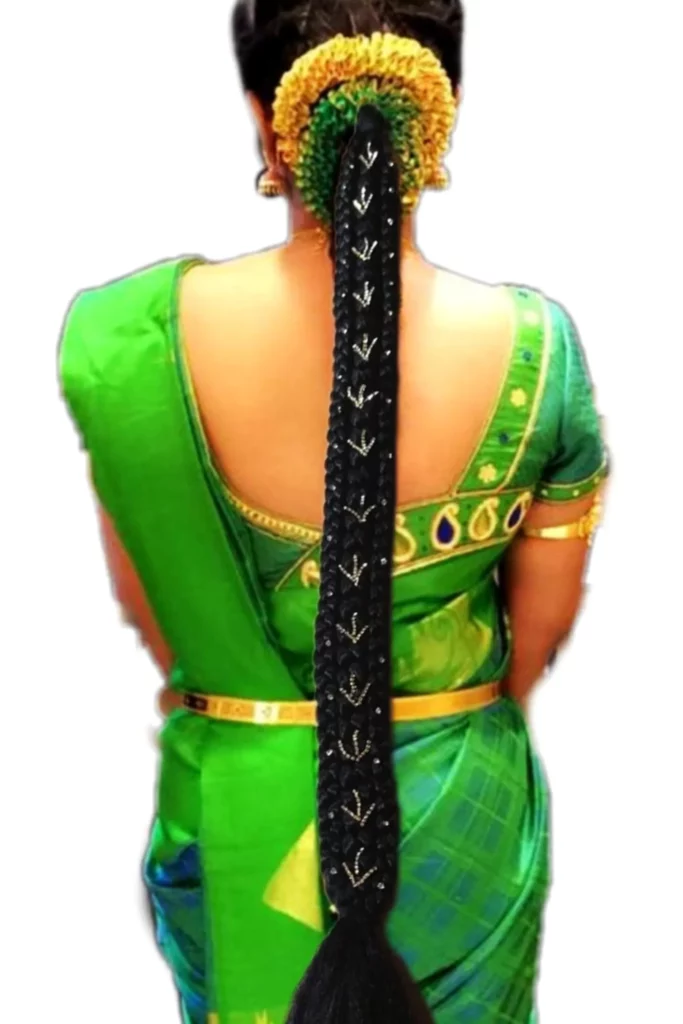 It is synthetic hair Wigs of the best quality on the market. It is helpful on special occasions like weddings, Birthdays, College parties, and engagement parties. Not only women but girls also love to wear it. You will be stunned by the quality. Wearing it will bring more confidence and more charm. It is both realistic looking and soft glimmer. It is very trendy these days. It protects our hair from chemicals and does not deteriorate hair quality. It makes hair looks more voluminous, and hairs become easy to manage. Its fragrance keeps us calm and happy. It also makes us look confident and beautiful.
Conclusion
Buying Poola Jada is very useful and can be reused. It never fails to fascinate the relatives of the Indian bride. It will not look good on a short braid. The Poola Jada requires to be sturdy enough to remain in position.You must purchase it only 5-6 hours before the wedding rituals. Never pile up many embellishments on your braid. Also, you can invest in one made up of artificial flowers and golden motifs rather than buying it every time. Poola Jada, made up of artificial flowers, will cost you less. Poola Jada of artificial flowers will cost between Rs 2000-Rs 5000 while fresh flowers will cost Rs 2000-Rs 5000.
FAQs Related to Poola jada with Real Flowers
Do Poola Jada damage hairs?

No, since they do not require any heat to get fixed to the hair.

Are Poola Jada too heavy?

Most of them are light-weighted and easy to carry on any occasion.

Is buying Poola Jada safe for my hair?

Yes, it is entirely safe for your hair.

What if I want real flowers, Poola Jada

You can buy them from any local flower shops nearby.